Disaster Preparedness Manual
The Disaster Preparedness Manual was produced through the efforts of the Greater Southwest Houston Chamber of Commerce in an effort to benefit local business with a disaster planning resource. Copies of the manual are available in limited quanities and may be acquired by contacting the Greater Southwest Houston Chamber of Commerce or Business Contingency Preparedness:
Small Business Assistance Committee: swcinfo@gswhcc.org
Business Contingency Preparedness: info@BusinessContingency.com
INTRODUCTION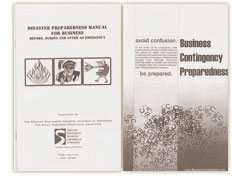 The purpose of this manual is to provide a guideline for use by small to medium sized businesses to allow them to fully prepare for unexpected catastrophic events and recover from such events quickly and with a minimum of expense. In this context, a small to medium sized businesses is one small enough not to be able to have a staff employee assigned to specifically focus on the subject of Disaster Planning, also known as Business Continuity Management. In many large companies, this person would be in the human resources department. Larger organizations with multiple locations have more complex communications and logistical issues.
This document is intended to be a step by step directive to companies that can operate with this information to take steps needed to prepare for a potential disaster, with proper attention to the specific requirements of that particular business. Further, it is intended to be used by a commercial operation. As such, it does not include discussions of certain important steps one should take to safeguard residence and family.
TABLE OF CONTENTS
PREPARING FOR THE WORST

THE PLAN

Creating a Plan
Plan for People
First Aid Kit
Project Plan
A Recovery Plan Outline

PROPERTY MANAGEMENT
FIRE SAFETY, THE FOUR E's
DEFENSE AGAINST CRIME-PLANNING TO HELP PREVENT A ROBBERY
RECORDS PRESERVATION
COMPUTER AND NETWORK SECURITY
INSURANCE
LEGAL ISSUES

Deceptive Trade Practices Act

WAITING OUT THE CRISIS
GETTING BACK TO BUSINESS
RESOURCES